Data Centre Blog 12.0 - February 2022 - Changes taking place in the fast-growing Spanish Data Centre Market.
17 February 2022
The Spanish third-party Data Centre market is undergoing a period of rapid growth in space, power and Hyperscale facilities. The increase is coming from a series of established Data Centre Providers and new entrants into the Spanish market. Some of the recent new Spanish Data Centre announcements are expressed in percentage by provider of the total 87,000 m2 planned expansions.
Figure 1 – A table showing the recent Data Centre announcements in the Spanish market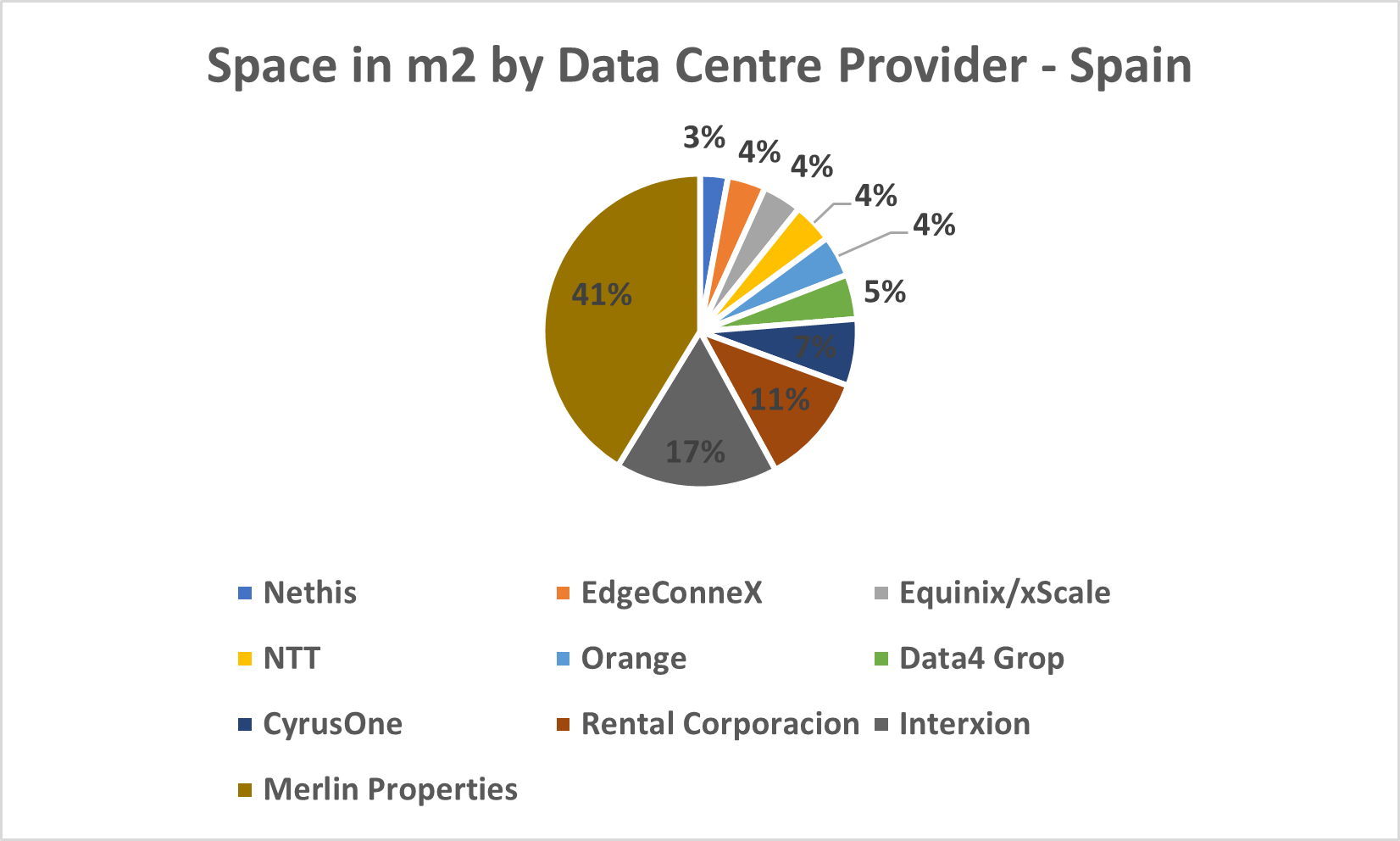 Source: DCP (*The Equinix MD6 facility shares the same premises as the xScale 3x-1 facility)
In total, the Spanish Data Centre market is seeing new investment by some ten Data Centre Providers and 17 Data Centre facilities.
The impact of the growth in Data Centre capacity will transform the Spanish market. As of the beginning of 2022 Spanish Data Centre installed power is 197 MW with the amount of new power under development equivalent to an increase of almost 78%.
Some six of the 17 facilities are being built in the Madrid area, with three others being introduced in the Barcelona area – and the remainder being built in cities throughout Spain.
Future Data Centre development outlook
Spain is seeing six new Data Centre developments in the Madrid area but are also seeing new developments in other cities including Barcelona (3 developments) followed by Bilbao, Santander and other cities including Salamenca, Orense, Leon, Caceres, Almera and Valencia.
Madrid and Barcelona will remain the largest city clusters in the country.
Many of the planned Data Centre facilities have room for further expansion with the Merlin Properties facilities having upgrade potential from an initial 16 MW up to 100 MW. The Spanish market is attracting private equity and property investors as new entrants attracted by the arrival of Hyperscale cloud and content providers.
A cloud availability zone has been established by Google Cloud – but AWS and Microsoft Azure Cloud to open their own cloud zones in Spain from 2022 onwards.
Spain is serving as a gateway into Europe & the Iberia region
Of all the European Data Centre Country Markets, Spain has the third highest number of new Data Centres under development (behind the UK and Germany) with the Madrid and Barcelona Metro markets in particular set for rapid growth in new capacity.
The Spanish market is attractive as a entry point into other markets including Portugal and South America, with content providers also distributing Spanish broadcasting and sports content to markets in South America and other markets worldwide. Traditionally there has been limited highly-connected Data Centre space but with the introduction of new cloud regions in Spain there is now a wide range of Hyperscale Data Centre facilities to choose from.
A DCP forecast for the Barcelona & Madrid Data Centre power growth is shown from the beginning of 2022 to the beginning of 2026 in MW is shown in the table below:
A table showing the forecast growth in Barcelona & Madrid Data Centre Metro power in MW
2022

2023

2024

2025

2026

% increase
(from 2022 to 2024)

Barcelona Power (MW)

31

39

54

79

110

255%

Madrid Power (MW)

129

182

205

238

280

117%
Source: DCP
The Spanish Data Centre market is set to become the stand-out Tier 2 market behind the largest markets of the UK, Germany, the Netherlands and France – with Madrid also becoming one of the 10 largest Data Centre Metro markets in Europe as well as one of the fastest growing.
A brief summary of the key investments is shown below in alphabetical order by each of the Data Centre Providers in Spain is below:
CyrusOne Data Centers: CyrusOne Data Centers, a US-based Hyperscale Data Centre Provider, now owned by KKR & Global Infrastructure Partners (GIP), has announced that it is to open its first Data Centre campus in Madrid (called Madrid I) at the Alcobandas municipality. The facility is to have 6,000 m2 of Data Centre raised floor space across a two storey building with 18 MW of Data Centre Customer Power.
According to Matt Pullen, CyrusOne EVP & MD of Europe:
"There has been a major acceleration of data center capacity in Spain over the last few years, and in 2020 Madrid was one of the fastest-growing European markets. Our investment in the region is another milestone on our European roadmap as we continue to expand our footprint across the continent to provide coverage, capacity, and connectivity requirements to support our customers' ambitions."
Data4 Group: Data4 Group, owned by AXA Investment Management, owns a series of campus Hyperscale facilities in Paris, Milan, Luxembourg and Madrid and is opening a new Data Centre campus at Warsaw in Poland. The Madrid Data4 campus facility is located at Alcobandas, with four Data Centre halls with 20 MW of power in total. Data4 Group plans to expand its Madrid Data Centre campus with more Data Centre buildings following a Euro €620 million fund raising made in September 2021.
EdgeConneX: EdgeConneX, a US-based Data Centre wholesale provider purchased by Swedish EQT Infrastructure fund, is developing its first Data Centre in Spain at Barcelona. To be called EDCBCN01 the facility is to have 3,600 m2 of Data Centre raised floor space and 8.4 MW of power and is to be launched from the beginning of 2023.
Equinix: Equinix entered the Spanish Data Centre market with the acquisition of Telvent in 2017, from Carlyle Group, with Data Centre facilities in Barcelona, Seville and Madrid. Equinix has two Data Centre facilities in Madrid - and is to open a 3rd Madrid facility (MD6) with the first phase of the MD6 facility to open in Q2 2022 with the launch of 600 racks (equivalent to 1,500 m2 of Data Centre raised floor space).
Interxion: The European Data Centre subsidiary of Digital Realty, Interxion was acquired by Digital Realty in March 2020, with three Data Centre facilities in the Madrid area. In September 2020 Interxion announced that it had purchased a 3.5 acre plot of land in Madrid capable of supporting up to 34 MW of power. The land is a 14,550 m2 plot for a fourth Data Centre facility in the San Blas-Canillejas district of Madrid.
According to Interxion Spain's Managing Director, Robert Assink:
"The recent restrictions on people's movements have shined a new light on the role of Data Centres and the digital economy. There is now heightened awareness of the importance of connectivity and access to the applications that enable us to work, study, consume content and shop from anywhere. Without Data Centres it would not be possible to connect users and businesses."
Merlin Properties: Merlin Properties is a Spanish real estate investor in logistics and industrial facilities. The company is making its first investment in Spanish Data Centres in partnership with energy investor Edged Energy. New Data Centres are to be built on sites already purchased for industrial & logistics development at Bilbao, Barcelona and Madrid (it is also to open a new facility in Lisbon, Portugal).
The first Data Centre is to be launched in Barcelona. The facilities are to be developed in partnership with Edged Energy, a green infrastructure start-up. Merlin Properties is to invest Euro €100 million on a 26,000 m2 plot in the Parc Logistic de la Zona Franca in Barcelona.
The Barcelona Data Centre facility is to have up to 16 MW of power and 23,000 m2 of gross space with construction to start in 2022 - the first phase is to be launched during 2023. All of the three Spanish Data Centres, plus one in Lisbon, are to be networked together and are to use no water in their operation.
Nethits Telecom - Nethits Telecom, a Spanish telecoms provider, has announced a plan to open a new Data Centre in Valencia, with 20,000 m2 of gross space and 20 MW of power with capacity for 1,000 racks (equivalent to 2,500 m2 of Data Centre raised floor space). Construction work is scheduled to start in Q2 2022 with operations to start in 2025 in five development stages.
NTT Global Data Center Providers: NTT Global Data Centers opened its first Spanish Data Centre near Madrid at Las Rozas de Madrid with up to 3,600 m2 of space and 6 MW of power.
Orange: Telecoms Provider Orange is developing a series of regional Data Centre facilities across Spain. In September 2021 Orange announced that it had opened a new Data Centre facility at Santander, with 1,200 m2 of Data Centre space located in the Candina Industrial Park in the northern Cantabria region.
Orange Spain's investment in the Santander Data Centre is the first of five new Data Centres being built in Spain until 2023 – in Spain's periphery - with the others to be built in Salamenca, Orense, Leon, Caceres & Almera for approximately Euro €4 million per facility.
Renta Corporacion -,Renta Corporacion, a Spanish property company, in July 2021 announced that it was to build a Data Centre in Barcelona following the acquisition of a land parcel of 16,500 m2 - where it will build a Data Centre and 3 industrial warehouses. The Data Centre is to have 10,000 m2 of space. It is the first investment by Renta in the Data Centre market.
According to the company's director of Tertiary Assets, Luis Guardia:
"The asset is located in an excellent location at a logistical level, which allows an agile road and rail connection of the enclave with the rest of Spain and Europe, to which is added the proximity of the Port and the Barcelona Airport. In recent years. The Catalan capital has become an attractive market for logistics land due to the great demand, limited supply, and high occupancy figures."
xScale Data Centres Equinix has published an expansion plan for its xScale dedicated hyperscale Data Centre subsidiary. xScale, a joint venture 80% owned by GIC (the Singaporean sovereign wealth fund) and 20% by Equinix is to open 3 xScale Data Centres in the Madrid area. The first xScale facility in Madrid (3x-1) is due to open in Q2 2022 with 7 MW of power and approximately 3,500 m2 of space.