China has the fastest growth rate of any large Data Centre market in the world. It is likely to continue.
30 June 2020
China has become one of the most dynamic 3rd party Data Centre markets in the world with space of almost 1.5 million m2 & 2,225 MW of power forecast as of the end of 2021 writes Keith Breed of DCP. DCP has conducted new research into the Chinese Data Centre market for the China Data Centre 2021 report published in June 2021.
China is a unique Data Centre market
Across China the scale of the Data Centre market is different to most countries. DCP has calculated that there are over 360 3rd party Data Centre facilities present with almost 200 Data Centre Providers. The surrounding area of Beijing and Shanghai accounting for almost half of all Data Centre space in China.
A number of Chinese Carrier Neutral Data Centre specialists are building large hyperscale facilities including - 21vianet Group, GDS Holdings, Beijing Sinnet Technology, Centrin Data Centre, ChinData and Chayora Holdings – with individual facilities of over 100,000 m2 of space being built – and over 460,000 m2 of Data Centre space to be launched from 2020. In Figure 1 below DCP shows the key new Chinese Data Centres under development: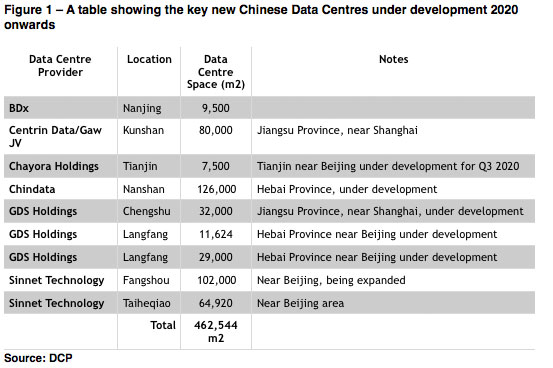 In June 2020 Chinese Data Centre Provider 21Vianet Group receives a USD $150 million investment from Blackstone, one of the world's largest fund management companies.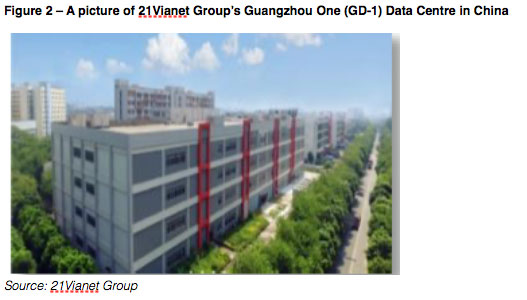 Chinese Data Centre growth rates are set to continue
DCP forecasts that Chinese Data Centre space growth is to be 73 per cent over the period from 2020 to 2025 -equivalent to a CAGR (Compound Annual Growth Rate) of 14.5 per cent per annum – with higher growth rates than any other large Data Centre market. The Chinese Data Centre market is currently the 2nd largest in the world (behind only the USA Data Centre market) and is almost three times the size of India's Data Centre market (a country with a similar population size to China).
Government support for Data Centres
Chinese central & regional Governments has identified the Data Centre segment as being strategically important for the growth of ICT services with priority planning rules being awarded for Data Centre construction. Data Centres are being prioritised to support the development of cloud services, the Internet of Things (IoT), 5G services, AI (Artificial Intelligence) and big data applications across China.
Chinese Data Centre Provider growth compared with USA Providers
The growth potential of the Chinese Data Centre market is reflected in the reported results of the Chinese Data Centre companies in Q1 2020, with rapid revenue growth shown year on year despite the impact of the Covid-19 pandemic:
21vianet Group – 25 per cent revenue growth

GDS Holdings – 39 per cent revenue growth
By contrast quoted US-based Data Centre REITs (Real Estate Investment Trusts) reported lower revenue growth than the Chinese-based Data Centre providers over the same period - ranging from 12 per cent (QTS), 9 per cent (CyrusOne), 6 per cent (Equinix) down to 1 per cent revenue growth (Digital Realty). The recent revenue growth for selected Chinese & US Data Centre Providers as of Q1 2020 is shown in the chart below: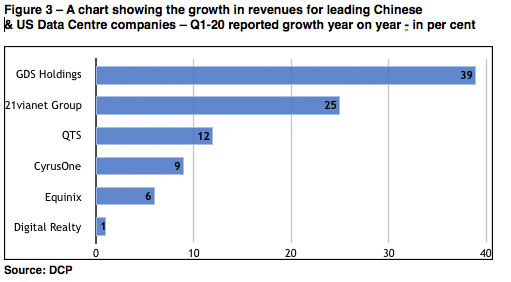 Chinese Data Centre Providers are growing faster than their North American Data Centre counterparts. But there remains considerable potential for yet more development as the Chinese state continues to encourage Data Centre infrastructure to enable a digital economy based on cloud, AI and data analytics.