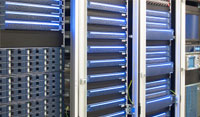 Click here to view the press release.
Publication Date: July 2014
Coverage/Profiles: 57 Telecoms Providers
Number of pages: 130
Figures/Charts: 55
About the Report
The TCL New Telco Data Centre – Pricing for the New Telecoms Data Centre – 2014 to 2019 report analyses the market for Telecommunications Data Centres (Carrier Based Data Centres) which are facilities that are owned by a Telecoms Provider.
TCL provides a definition of the New Telco Data Centre used for the purposes of this report below:
"The New Telco Data Centre is defined as being a facility that can provide multiple services and uses with different grades of service and power. Multiple halls – or modular zones – are being constructed to cater for the provision of network equipment, hosting, colocation & housing and managed services. The Data Centre can cater for both the Telco's own services and third party enterprise users. And for enterprise users different grades of power and SLA can be provided to meet different price points or requirements".
The use of Data Centre facilities by the Telco has changed over time, from being a supplementary service to house telecoms equipment and provide cross connects to becoming a core service, which enables new revenue streams, including Hosting, Cloud & Managed Services. As the Telecoms Data Centre role has changed from being a pure colocation and housing facility to the provision of value added services, the term New Telco Data Centre can be used.
The report is based on a survey of 57 Telecoms Providers with Data Centre facilities based across 33 countries worldwide. The Telecoms Providers included in the survey meet the following criteria:


Build, own & operate their own Telco Data Centre facilities


Provide a wide range of services from their own Data Centre facilities


Have made recent new Data Centre investments


Table of Contents
A list of Figures

A list of companies mentioned in the report

Methodology

Executive Summary

The Ten Key Headlines from the report

Section ONE - The New Telco Data Centre
Introduction
A definition of the New Telco Data Centre
The business landscape for the New Telco Data Centre
The main trends for the New Telco Data Centre
The key services provided by the New Telco Data Centre
The different types of New Telco Data Centre
The changes in the provision of the New Telco Data Centre
The business model for the New Telco Data Centre
Monetising the Telecom Provider New Data Centre asset
Key Point Summary

Section TWO – The key services offered by the New Telco Data Centre
Introduction
The key core services offered by the New Telco Data Centre IT related services offered from the New Telco Data Centre
The new services offered by the New Telco Data Centre
Colocation and Housing Services Connectivity and Networking Services
Managed Services Hosting Services
Cloud computing Services
The growth in new services for the New Telco Data Centre
Examples of services offered by the New Telco Data Centre
Key Point Summary
SECTION THREE - Pricing the New Telco Data Centre Introduction Historical pricing trends for the New Telco Data Centre
Current pricing for the New Telco Data Centre
Pricing for the New Telco Data Centre by product type
Forecast pricing & capacity for the New Telco Data Centre from 2014 to 2019 Forecast capacity for the New Telco Data Centre from 2014 to 2019 Forecast rack space and per square metre pricing for the New Telco Data Centre – from 2014 to 2019 worldwide
Key Point Summary
Section Four. The New Telco Data Centre Provider Profiles
Introduction
The New Telco Data Centre Telecoms Provider profiles
Profiles of all Telcos covered
AT&T
BT
Belgacom
BellCanada
Bharti Airtel
CAT IDC
Centurylink
ChinaTelecom
Chunghwa Telecom
Cogent Communications
Colt Telecom
EBRC
Eircom
Etisalat
Globe Telecom
Iliad Group
Interoute
ITC
KDDI
KPN
KT Corp
Level 3
MegaFon
Mobily
MTS
Orange Business Service
Ooredoo
NTT Com
PT Indosat
Pacnet
PCCW HKT
PLDT
PortugalTelecom
Reliance Infocom
RogersCommunications
Rostelecom
SFR
SingTel
Softbank Telecom
STC
Swisscom
T-Systems
Tata Communications
TelecomIndonesia
Telecom Italia
TeleDenmark
Telefonica
TelekomAustria
TelekomMalaysia
TeliaSonera
Telstra
TELUS
Verizon
Vimpelcom
Vodafone
Wind
XO Communications
The key new Telco Data Centre providers – Key Point Summary
Section FIVE – Conclusions to the New Telco Data Centre report
Introduction
The changing face of the New Telco Data Centre
The importance of the New Telco Data Centre
Pricing for the New Telco Data Centre
Key Point Summary
Appendices
Appendix One – A glossary of terms used in the report
Appendix Two – Currencies used in the report converted into USD
Figures used in the Report
Figure 1: A list of Telecoms Providers mentioned in the report
Figure 2: A table showing the different Data Centre types available
Figure 3: A table showing the key New Telco Data Centre build outs
Figure 4: A table showing the estimated cost of Data Centre build out (in USD per s. m.)
Figure 5: A table showing the key factors driving the adoption of the New Telco Data Centre
Figure 6: A table showing the key Telecoms Network Providers using DRT's facilities
Figure 7: A table showing the key Data Centre acquisitions by the Telecoms Provider
Figure 8: A bar chart showing the four key types of Data Centre business model used by the Telecoms Provider
Figure 9: A table showing the types of Hosting service provided by the Telecoms Provider
Figure 10: A table showing the core standard services offered by the Telecoms Provider
Figure 11: A table showing examples of the types of cloud services provided by the Telecoms Provider
Figure 12: A bar chart showing the range of service types from the Telecoms Provider's New Telco Data Centre
Figure 13: A table showing the on demand IT service portfolio provided by T-Systems
Figure 14: A table showing the colocation services being provided by selected Telecoms Providers
Figure 15: A table showing examples of connectivity & network services provided from the New Telco Data Centre
Figure 16: A table showing the types of Managed Service being provided by the Telecoms Provider
Figure 17: A table showing examples of the Hosting Services offered by the Telecoms Provider
Figure 18: A table showing selected cloud services offered by the Telecoms Provider
Figure 19: A chart showing the average Carrier Based Data Centre rack space rates from 2007 to 2014 in USD per month
Figure 20: A table showing standard rack space pricing from selected Telecoms Providers in USD per month
Figure 21: A table showing Colocation pricing from selected Telecoms Providers in USD per month
Figure 22:A chart showing IP Transit pricing from selected Telecoms Providers in USD per month
Figure 23: A table showing Hosting pricing from selected Telecoms Providers in USD per month
Figure 24: A table showing the pricing for the PLDT Cloud in USD per month
Figure 25: A table showing the Vodafone Flexible Computing service pricing in USD per month
Figure 26: A table showing selected Telecom Provider cloud computing pricing in USD per month
Figure 27: A table showing AT&T Synoptic Computing As A Service component pricing in USD per month
Figure 28: A table showing NTT Com's Pay As You Go Cloud Computing pricing in USD per month
Figure 29: A chart showing forecast growth in New Telco Data Centre capacity in square metres
Figure 29: A table showing forecast growth in New Telco Data Centre capacity in square metres
Figure 30: A table showing the forecast growth in New Telco Data Centre standard rack space pricing in USD per month
Figure 31: A pie chart showing the forecast amount of New Data Centre space in per cent by the Top Ten Telecom Providers
Figure 32: A table showing the forecast amount of Top Ten Telecom Provider Data Centre space in square metres
Figure 33 - A table showing the forecast growth in New Telco Data Centre standard rack space pricing in USD per month
Figure 34 - A chart showing the forecast growth in New Telco Data Centre standard rack space pricing in USD per month
Figure 35: A table showing the forecast growth in New Telco Data Centre pricing per square metre in USD per month
Figure 36: A chart showing the forecast growth in New Telco Data Centre revenues in USD per annum
Figure 37: A schematic showing BT's networked Data Centre facilities worldwide
Figure 38: A table showing selected new BT Data Centre facilities expansion
Figure 39: A table showing the EMEA Data Centre space using the Telehouse brand
Figure 40: A table showing a breakdown of Telehouse Data Centre facilities by geographical region - in square metres
Figure 41: A schematic showing a plan of the OBS Normandy Data Centre
Figure 42: A table showing recent NTT Com Data Centre facility builds
Figure 43: A table showing a geographical breakdown of NTT Com Data Centre space in square metres
Figure 44: A table showing the breakdown of GTS CE Data Centre facilities in the Czech Republic, Hungary, Poland & Romania
Figure 45: A table showing Telecom Italia's Hosting Services
Figure 46: A table showing Telecom Italia's Security Services
Figure 47: A table showing Telecom Italia's Business Continuity Services
Figure 48: A table showing Telecom Italia's Virtual Desktop Services
Figure 49: A table showing the Data Centre facility space operated by Verizon-Terremark
Figure 50: A table showing the regional breakdown of Verizon Data Centre facilities worldwide
Figure 51: A table showing the largest Telco Data Centre providers by raised floor space in square metres
Figure 52: A bar chart showing the largest Telco Data Centre providers by raised floor space in square metres
Figure 53: A table showing selected new key Telecom Provider Data Centre developments
Figure 54: A table showing the glossary of terms used in the report
Figure 55: A table showing the conversion of local currencies into USD $1 used in the report