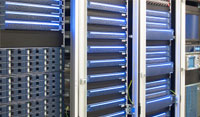 Press Release: Click here to view it
Number of Pages: 90
Published: January 2015
Synopsis
The Emerging Market Data Centre Report initially produced in mid-2011 with an update in 2013 has been updated and expanded.
In 2011, a total of 76 Data Centre providers were covered; in 2013, 102 Data Centre providers and for this edition we identified 126 Data Centre facilities with approximately 164 idenfitied Data Centre facilities across the 11 countries surveyed. (Some Data Centre operators have multiple facilities in some countries).
An extract from the report reveals that the largest country Data Centre market in the TCL survey is Russia, which is forecast to have over 59,000 square metres of raised floor space as of the beginning of 2015 – which now accounts for 51 per cent of total raised floor space in the 11 country survey – due in part to the growth in new Carrier Neutral and Carrier Based Data Centre space in Russia from 2012 and into 2013 – and have continued deploy new space.
Countries covered include: Albania, Bulgaria, Bosnia, Croatia, Macedonia, Moldova, Russia, Serbia, Turkey and the Ukraine.
The Emerging Markets Data Centre 2015 report includes details of the Data Centre landscape, Power costs, Data Centre capacity, Data Centre business models, forecast space and rack space & per square metre pricing from 2015 to 2020 for each of the 11 countries.
The report provides a 5 -ear forecast for each country market based on projected volume growth, utilisation levels and price increases in Data Centre stock for the period from the end of 2015 to the end of 2020. Each country survey provides a 5-year forecast for rack space pricing and per square metre suite pricing.
Table of Contents
Methodology
Executive Summary
A Summary of the main trends in the Emerging Market Data Centre survey
Chapter One – The Data Centre Data Landscape – 2015 to 2020
Chapter Two – Data Centre Pricing Country Survey – 2015 to 2020
Introduction
Data Centre Pricing in Albania
Data Centre Pricing in Bosnia
Data Centre Pricing in Bulgaria
Data Centre Pricing in Croatia
Data Centre Pricing in Macedonia
Data Centre Pricing in Moldova
Data Centre Pricing in Montenegro
Data Centre Pricing in Russia
Data Centre Pricing in Serbia
Data Centre Pricing in Turkey
Data Centre Pricing in the Ukraine
Each Country Profile covers the following topics:


Key Statistics


Data Centre Landscape


Pricing Overview


Power Costs


Data Centre Capacity


Data Centre Business Models


Forecast Space and Pricing – 2015 to 2020


Forecast Assumptions


Chapter Three – Conclusions to the Emerging Market Data Centres Report
The Data Centre landscape in the report
Data Centre average pricing in the report
Data Centre power costs in the report
Data Centre capacity in the report
Data Centre Business Models in the report
Data Centre forecast space and pricing in the report
Appendix One – A list of Data Centre providers included in this report

A list of Tables and Charts in the report
Figure 1: A table showing the local currencies converted into 1 Euro for this report
Figure 2: A table showing the total numbers of Data Centre Provider facility by country in this report
Figure 3:A pie chart showing the square metre Data Centre space per country in the 11 countries as of the beginning of 2015 for the report
Figure 4: A table showing the total Data Centre space per Country Market: as of the beginning of 2015
Figure 5: A pie chart showing the main Data Centre provider business models in per cent
Figure 6: A table showing the number of Data Centre providers by business model
Figure 7: A table showing the total forecast raised floor space by Country Market as of the beginning of 2020
Figure 8: A table showing the total forecast raised floor space by Country Market as of the beginning of 2015
Figure 9: A table showing the forecast standard average rack space rental pricing in Euro per month as of the beginning of 2015
Figure 10: A bar chart showing forecast average square metre pricing in Euro per month as of the beginning of 2015 for the 11 Country Markets
Figure 11: A table showing the definition of the 5 main Data Centre business models in the report
Figure 12: A pie chart showing the 5 main Data Centre business models in per cent
Figure 13: A key statistics table for Albanian Data Centres
Figure 14: A table showing the main Albanian Data Centre business models
Figure 15: A chart showing the Albanian Data Centre forecast raised floor space from 2015 to 2020
Figure 16: A chart showing the Albanian Data Centre forecast rack space pricing from 2015 to 2020
Figure 17: A chart showing the Albanian Data Centre forecast per square metre pricing from 2015 to 2020
Figure 18: A key statistics table for Bosnian Data Centres
Figure 19: A chart showing the Bosnian Data Centre forecast raised floor space from 2015 to 2020
Figure 20: A chart showing the Bosnian Data Centre forecast rack space pricing from 2015 to 2020
Figure 21: A chart showing the Bosnian Data Centre forecast per square metre pricing from 2015 to 2020
Figure 22: A key statistics table for Bulgarian Data Centres
Figure 23: A pie chart showing the breakdown of the different Bulgarian Data Centre business models (in per cent)
Figure 24: A chart showing the Bulgarian Data Centre forecast raised floor space from 2015 to 2020
Figure 25: A chart showing the Bulgarian Data Centre forecast rack space pricing from 2015 to 2020
Figure 26: A chart showing the Bulgarian Data Centre forecast per square metre suite pricing from 2015 to 2020
Figure 27: A key statistics table for Croatian Data Centres
Figure 28: A table showing the Data Centre Business Models inCroatia
Figure 29: A chart showing the Croatian Data Centre forecast raised floor space from 2015 to 2020
Figure 30: A chart showing the Croatian Data Centre forecast rack space pricing from 2015 to 2020
Figure 31: A chart showing the Croatian Data Centre forecast per square metre suite pricing from 2015 to 2020
Figure 32: A key statistics table for Macedonian Data Centres
Figure 33: A chart showing the Macedonian Data Centre forecast raised floor space from 2015 to 2020
Figure 34: A chart showing the Macedonian Data Centre forecast rack space pricing from 2015 to 2020
Figure 35: A chart showing the Macedonian Data Centre forecast per metre suite pricing from 2015 to 2020
Figure 36: A key statistics table for Moldavian Data Centres
Figure 37: A chart showing the Moldavian Data Centre forecast raised floor space from 2015 to 2020
Figure 38: A chart showing the Moldavian Data Centre forecast rack space pricing from 2015 to 2020
Figure 39: A chart showing the Moldavian Data Centre forecast per square metre suite pricing from 2015 to 2020
Figure 40: A key statistics table for Montenegro Data Centres
Figure 41: A chart showing the Montenegro Data Centre forecast raised floor space from 2015 to 2020
Figure 42: A chart showing the Montenegro Data Centre forecast rack space pricing from 2015 to 2020
Figure 43: A chart showing the Montenegro Data Centre forecast per metre suite pricing from 2015 to 2020
Figure 44: A key statistics table for Russian Data Centres
Figure 45: A pie chart showing the breakdown of the different Russian Data Centre business models (by per cent)
Figure 46: A chart showing Russian Data Centre forecast raised floor space from 2015 to 2020
Figure 47: A chart showing Russian Data Centre forecast rack space pricing from 2015 to 2020
Figure 48: A chart showing Russian Data Centre forecast per metre suite pricing from 2015 to 2020
Figure 49: A key statistics table for Serbian Data Centres
Figure 50: A table showing the Data Centre business models inSerbia
Figure 51: A chart showing the Serbian Data Centre forecast raised floor space from 2015 to 2020
Figure 52: A chart showing the Serbian Data Centre forecast rack space pricing from 2015 to 2020
Figure 53: A chart showing the Serbian Data Centre forecast per metre suite pricing from 2015 to 2020
Figure 54: A Key Statistics table for the Turkish Data Centre market
Figure 55: A table showing Turk Telecom IDC power bundle costs (Euro per month)
Figure 56: A summary table showing selected Key Turkish Data Centres
Figure 57: A pie chart showing the breakdown of the different Turkish Data Centre business models (in percentages)
Figure 58: A chart showing the forecast Turkish Data Centre raised floor space: from 2015 to 2020 (in square metres)
Figure 59: A chart showing the forecast Turkish Data Centre standard rack space pricing from 2015 to 2020 (in Euro per month)
Figure 60: A chart showing the forecast Turkish Data Centre per square metre suite pricing from 2015 to 2020 (in Euro per month)
Figure 61: A key statistics table for Ukrainian Data Centres
Figure 62: A pie chart showing the breakdown of the different Ukrainian Data Centre business models (in per cent)
Figure 63: A chart showing the Ukrainian Data Centre forecast raised floor space from 2015 to 2020
Figure 64: A chart showing the Ukrainian Data Centre forecast rack space pricing from 2015 to 2020
Figure 65: A chart showing the Ukrainian Data Centre forecast per square metre suite pricing from 2015 to 2020
Figure 66: A pie chart showing the forecast Data Centre raised floor space market share for the 11 countries for the beginning of 2015 (in per cent)
Figure 67: A table showing the forecast Data Centre raised floor space by country (as of the beginning of 2015) in square metres
Figure 68: A pie chart showing the main Data Centre business models being used in the 11 countries (as of the beginning of 2015) in per cent
Figure 69: A table showing the5 key Data Centre Business Models covered in the report by the number of Data Centre providers
Figure 70: A table showing the key Carrier Neutral Data Centres identified in this report
Figure 71: A table showing the forecast growth in Data Centre raised floor space in the 11 countries from 2015 to 2020 in square metres
Figure 72: A stacked bar chart showing the forecast growth in Data Centre raised floor space in the 11 countries from 2015 to 2020 in square metres
Figure 73: A table showing the forecast growth rate in Data Centre rack space pricing in the 11 countries from 2015 to 2020 in Euro per month
Figure 74: A bar chart showing the forecast growth in Data Centre rack space pricing growth in the 11 countries from 2015 to 2020 in Euro per month